THE ROYAL ANGLIAN REGIMENT
"THE FORMER REGIMENTS"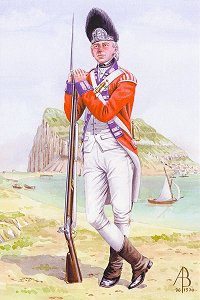 AB25/4 Grenadier,
The 56th Regiment of Foot, Gibraltar 1779-83.
"The Former Regiments", specially commissioned for The Royal Anglian Museum, Duxford, Cambridge.
From a watercolour painting by Alix Baker.
Code: PC-AB-25SET ~ Price: £8.00
Available only in the set of 16 postcards
Size: 100mm x 150mm
Published by Alix Baker © 1996
.