THE CAVALRY (2)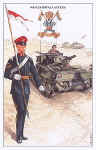 No. 10. 9th/12th Royal Lancers
Corporal: No. 1 Dress
Combat Vehicle Reconnaissance Tracked - Scorpion
Background: Missile being launched from FV102, Striker
From a watercolour painting by Christopher A. Collins.

Postcard No. 10 9th/12th ROYAL LANCERS (PRINCE OF WALES'S)
The Regiments of Dragoons which were later to become the 9th Queen's Royal Lancers and the 12th Royal Lancers (Prince of Wales's) were raised in July 1715. Both Regiments were awarded the battle honour "Waterloo" and shortly afterwards were armed with the lance and styled 'Lancers'. They were amalgamated in 1960 at Tidworth to form the 9th/12th Lancers (POW's).
The Corporal's No. 1 Dress jacket has steel shoulder chains. These are the last relic of the armour worn by cavalrymen. Non Commissioned Officers (NCO's) wear a badge of the Prince of Wales's plumes over their chevrons. This Corporal also wears a Class 1 tradesman badge, in the form of a small brass armoured car, on his right forearm. The pouch belt and pouch was worn may years ago by all ranks and was used for carrying messages. It was reintroduced for wear with Service Dress and Blues a few years ago. The lance is made of special bamboo and is a fixed length.
The tracked combat vehicle Scorpion (FV101) entered service in 1972. Its light weight is achieved by the use of welded aluminium armour. It has a crew of three and is powered by a 4.2 litre Jaguar engine. Its main armament is a 76mm gun which has a 7.62mm machine gun co-axially mounted with it. The Scorpion is used mainly as an armoured reconnaissance vehicle.
In the far distance a missile has been launched from a FV102 Striker. This is capable of destroying enemy tanks at a range of 4,000 metres.
Published 1991

Copyright © 1991 Published by Geoff White Ltd.