OTHER REGIMENTS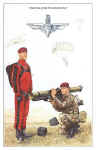 No. 53. The Parachute Regiment
'Red Devil' Freefall Team Member:Freefall Dress
Airborne Soldier:Combat Dress with Light Anti-tank Weapon
Background: Islander Aircraft with Team Members Descending
From a watercolour painting by Christopher A. Collins.

Postcard No. 53 THE PARACHUTE REGIMENT
In June 1940, inspired by the success of the German Airborne Army, the then Prime Minister, Mr. Winston Churchill, called upon the War Office for the formation 'of at least 5,000 Parachute Troops'. This prompted the establishment of an experimental and training centre at Ringway Airport, Manchester. By the year's end 500 officers and men had qualified as parachutists. On 1st August 1942, parachute battalions which had until then no parent Regiment or Corps, were formed into The Parachute Regiment.
The figure illustrated on the left is a member of the parachute Regiment Freefall Team, the Red Devils. Dressed as for carrying out a parachute display, he is wearing a ram air square parachute system which is lightweight, fast and highly manoeuvrable. The container does in fact house two square parachutes. The reserve parachute is for use in an emergency and is a lightweight version of the main canopy. All members of the freefall team are primarily soldiers drawn from the regular parachute battalions.
The other soldier is wearing Combat Clothing. His cap badge, which is normally silver in colour, has been painted black for use in combat. He is shown preparing to fire the 94mm Light Anti Tank Weapon or LAW 90. This is a rocket system, with a disposable launcher, which can be carried and used by one man. The rocket had wrap around folding fins to provide stability in flight. It is automatically armed after travelling about 20 metres.
The Red Devils twin turboprop Islander aircraft is seen in the background with two team members descending.
Published 1992

Copyright © 1992 Published by Geoff White Ltd.