THE SUPPORT ARMS AND SERVICES (4)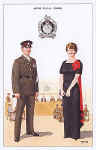 No. 80. Army Legal Corps
Captain: No. 2 Dress (Ceremonial)
Major: Mess Dress
Background: Trial by Court Martial
From a watercolour painting by William R. Younghusband

Postcard No. 80 ARMY LEGAL CORPS
There have always been lawyers associated with the Army. The first recorded Judge Advocate General was Sir Samuel Barrow who was appointed in 1666. In 1923 a specific military department of the Judge Advocate general's office was created. Lawyers joining this department were commissioned and prosecuted at court-martials. In 1948 the Army Legal Services Staff List was created from the Military Division of the Judge Advocate General's Department and in 1978 the Army Legal Corps was formed from that Staff List. This is a small all-officer corps containing some fifty members. All ALC officers advise on aspects of Service and Civil law.
The captain in no. 2 Dress is wearing a Sam Browne belt, sword, medals and gloves, as appropriate for a General court-martial. His No. 1 Dress forage cap is blue with scarlet bands at the top and bottom of the headband. On it is worn the Corps cap badge which includes the blindfold Figure of Justice holding scales of justice on one hand and a sword in the other.
The major is wearing ladies Mess Dress made from black silk with a red sash lined in black. An embroidered badge of rank is worn on the left shoulder strap and the Corps badge is worn on the front of the sash.
The background scene shows a typical court-martial in progress. The robed Judge Advocate sits to the President of the Court's right. A Royal Military Police witness is giving his evidence in the witness box and the accused can be seen sitting hatless in front of the court. The Royal Coat of Arms is mounted on the wall behind the court.
Published 1993

Copyright © 1993 Published by Geoff White Ltd.