SPECIALISED MILITARY COLLECTOR'S CARDS
ARMY REGIMENTS - SET 2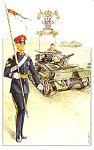 No. 2
9th/12th Royal Lancers

The regiments of Dragoons which were later to become the 9th Queen's Royal Lancers and the 12 Royal Lancers (Prince of Wales's) were raised in 1715. Both regiments were awarded the battle honour "Waterloo" and shortly afterwards both regiments were armed with the lance and styled "Lancers". These regiments were amalgamated in 1960 at Tidworth to form the 9th/12th Lancers (Prince of Wales's).
Card measures 44mm x 70mm
Copyright © Published by Geoff White Ltd.