SPECIALISED MILITARY COLLECTOR'S CARDS
ARMY REGIMENTS - SET 2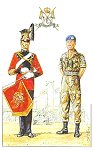 No. 5
16th/5th The Queen's Royal Lancers

The regiment was formed in April 1922 by the amalgamation of the 16th The Queen's Lancers and the 5th Royal Irish Lancers. The reverse order of seniority is due to the fact that the 5th although raised first in 1689 were later disbanded before being re-instated by Queen Victoria. The regiments is now an armoured reconnaissance regiment equipped with Scimitar Light tanks and Swingfire guided missiles.
Card measures 44mm x 70mm
Copyright © Published by Geoff White Ltd.