SPECIALISED MILITARY COLLECTOR'S CARDS
ARMY REGIMENTS - SET 2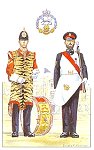 No. 14
The Royal Hampshire Regiment

In 1881 two battalions of the Hampshire Regiment were formed by the uniting of the former 37th (North Hampshire) and 67th (South Hampshire) Regiments. in 1946, in recognition of the Regiment's outstanding service King George VI approved the distinction of Royal. The Royal Tiger is included on their regimental cap badge to commemorated many years service in India. Hence their popular nickname 'Tigers', which is still used today.
Card measures 44mm x 70mm
Copyright © Published by Geoff White Ltd.