CAVALRY REGIMENTS (1) POSTCARDS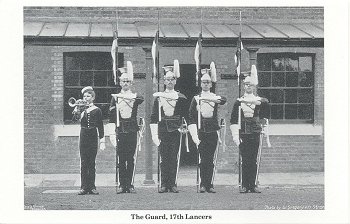 The Guard, 17th Lancers
The photograph, taken at Hounslow Barracks early in 1896, illustrates the Guard of the 17th Lancers (Duke of Cambridge's Own). The 'turn out' of the guard shows a Corporal and three Troopers in Full Dress with a trumpeter boy in 'undress' uniform.
The distinctive dress of the 17th Lancers, known as the Death or Glory Boys, consisted of a blue tunic with white facings and plastron on the chest, white plume and square top to the lance cap and overalls with a double white stripe down the side seams.
This text was kindly researched and prepared by Alan Harfield (FR Hist S)
Copyright © 1989 Published by Geoff White Ltd.