CAVALRY REGIMENTS (2) POSTCARDS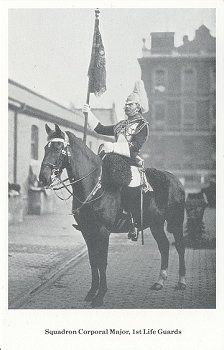 Squadron Corporal Major, 1st Life Guards
Until 1834 every British cavalry regiment had its 'squadron standard'. This was a survival from feudal days where each leader brought his own separate band of followers and used a standard as a rallying point.
Squadron standards were discontinued in the army from 1834 except in the Household Cavalry. Likewise the Household Cavalry used the historic term 'corporal' instead of the general rank of sergeant.
The Squadron Corporal Major was the senior non-commissioned officer in each squadron, and the illustration shows the holder of that rank in full dress.
This text was kindly researched and prepared by Alan Harfield (FR Hist S)
Copyright © 1989 Published by Geoff White Ltd.