DRUM HORSE POSTCARDS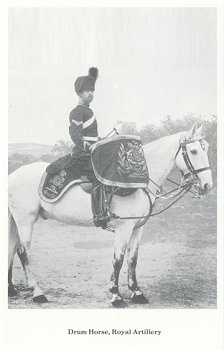 Drum Horse, Royal Artillery
The illustration is taken from the publication 'The Transvaal War Album' and shows the Drum Horse of the Royal Artillery. The Drum Horse is carrying the drums over which embroidered covers, or banners are draped.
These have the devices and mottoes of the Royal Artillery embroidered on them.
Drum Horses were specially trained for their role and generally became regarded as regimental pets. This photograph clearly shows how the drummer, who had his hands fully occupied, guided the horse by the reins which were attached to his stirrups.
This text was kindly researched and prepared by Alan Harfield (FR Hist S)
Copyright © 1989 Published by Geoff White Ltd.