FOOT GUARDS POSTCARDS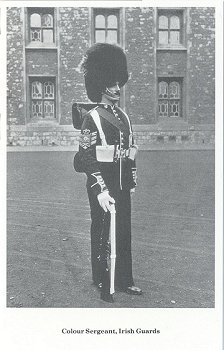 Colour Sergeant, Irish Guards
The Colour Sergeant is in full dress, wearing Slade equipment. The Irish Guards were raised in April 1900 by Her Majesty Queen Victoria to commemorate the bravery shown by the Irish Regiments during the war in South Africa.
The regiment earned the nickname 'The Micks. The rank badge on the sleeve clearly shows the colour sergeants emblazoned badge over the chevrons surmounted by the Victorian Royal crown.
An interesting note to this illustration is that when it was first published it carried the title of 'Royal' Irish Guards.
This text was kindly researched and prepared by Alan Harfield (FR Hist S)
Copyright © 1989 Published by Geoff White Ltd.