SCOTTISH REGIMENTS POSTCARDS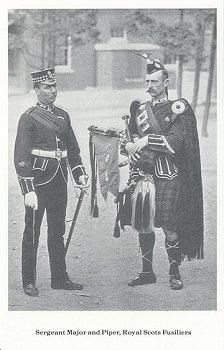 Sergeant-Major and Piper of the Royal Scots Fusiliers
The photograph shows the Sergeant Major and a piper of the Royal Scots Fusiliers at Maida Barracks, Aldershot, during 1896.
The Sergeant Major is wearing undress uniform which includes the doublet, with gauntlet cuffs, which was worn by all Lowland regiments.
The piper is dressed in a kilt with full regimental dress and is carrying his pipe with regimental pipe banner.
The regiment was raised in September 1691 by Colonel Charles Erskine, 5th Earl of Mar and became a fusilier regiment from 1691 when it was styled 'Colonel O'Farrell's Fuzileers'.
This text was kindly researched and prepared by Alan Harfield (FR Hist S)
Copyright © 1989 Published by Geoff White Ltd.