INDIA PICTURE POSTCARDS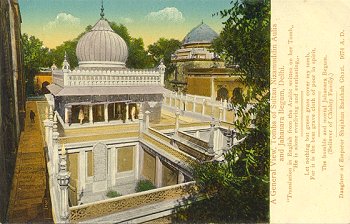 Title: A General View, Tombs of Sultan Nizamuddin Aulia and Jahanara Begum, Delhi.
Publisher: H. A. Mirza & Sons, Delhi. - 22
Printed colour postcard with divided POST CARD back in green
Code: PC-INDIA-0011 ~ Grade: B ~ Price: £2.50
Card measures 139mm x 89mm
"Translation in English from the Arabic written on her Tomb"
"He is alone everliving and everlasting".
Let nothing but green grass cover my tomb.
For it is the best grave of cloth of poor in spirit.
The humble and mortal Jahanara Begum.
(Beliver of Chishty Family.)
Daughter of Emperor Shajahan Badshah Ghazi. 1674 A. D.
~ ~ ~