THE QUEEN'S GUARDS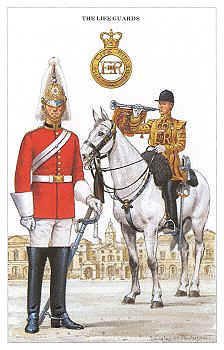 No. 1 The Life Guards
Trooper: Front Yard Order.
Trumpeter: State Dress.
Background: Horse Guards.
From a watercolour painting by Douglas N. Anderson.
Postcard No. 1 THE LIFE GUARDS
In 1660 the Cavalier bodyguard which accompanied Charles II back from exile became a regiment of Life Guards of Horse. Other elite troops of cavalry were subsequently raised and then reduced and in 1788 all were reorganised as the 1st and 2nd Life Guards. In 1922 these were combined as one regiment. The Life Guards with the Blues and Royals comprise the Household Cavalry Regiment, the personal body guard of the Sovereign.
The Trooper is shown in Front Yard order of dress. This is similar to Mounted Review Order but without the cuirass. The white plume has the distinctive onion-shaped top achieved by binding while damp. The red cord on his white buff cartouche belt commemorates the flash-powder flask once carried. The jack boots are stout leather with the extension above the knee which originally served as a protection against crushing in the close order charge. All ranks possess a state sword and a service sword. The former is shown here.
The State Dress worn by the Trumpeter remains virtually unchanged from the time of Charles II. It is a Royal Livery rather than a military uniform and is worn in the presence of Royalty. The riding cap has a cork base and is covered in dark blue velvet. The coat is crimson velvet and is almost completely covered with gold lace and gimp. All Household Cavalry troop horses are black with the exception of the Trumpeters' which are grey and the drum horses which are either piebald or skewbald. The Queen's Life Guard is mounted daily at the Horse Guards which is seen here from Whitehall.
Published 1986.
Copyright © 1995 Published by Geoff White Ltd.