THE QUEEN'S GUARDS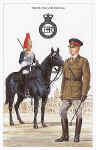 No. 2. The Blues and Royals
Trooper: Mounted Review Order.
Captain: Service Dress (Mounted).
Background: Horse Guards.
From a watercolour painting by Douglas N. Anderson.
Postcard No. 02 THE BLUES AND ROYALS (ROYAL HORSE GUARDS AND 1ST DRAGOONS)
This regiment is the result of the amalgamation in 1969 of The Royal Horse Guards (the Blues) and the 1st Royal Dragoons. Both were raised in 1661; the former were descendants of a Cromwellian regiment which was granted Household status in 1821; the latter were made Royal after the defence of Tangier in 1683.
The Trooper is in Mounted Review Order. His dark blue tunic has scarlet facings. The coveted Eagle Badge of the old Royal Dragoons is worn on the upper left arm in gold. The cuirass is of nickel silver with brass fittings. It is the last relic of body armour worn in the British Army. Saddlery is black with mainly brass fittings. The brow band is white with brass ear bosses. The ornamental links over the head band were originally intended to prevent a sword cut from releasing the bridle. The saddle is covered with a black sheepskin. The Household Cavalry horses are not less than 16 hands high.
The Captain is wearing Mounted Service dress. This is khaki and in cavalry style with full skirt and a single vent. On the upper arm is the Eagle Badge in gold embroidery on black. A blue lanyard is worn on the left shoulder. The Sam Browne belt is in the cavalry pattern (circular dees for the sword frog rather than triangular as for the infantry) and has a whistle in a leather sleeve. The breeches are grey with darker grey strappings.
The figures are seen with a view of Horse Guards from the Parade in the background.
Published 1986
Copyright © 1996 Published by Geoff White Ltd.