THE QUEEN'S GUARDS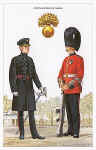 No. 21. Grenadier Guards
Captain: Frock Coat Order.
Guardsman: Full Dress.
Background: Wellington Barracks, London
From a watercolour painting by Douglas N. Anderson.
Postcard No. 21 GRENADIER GUARDS
In 1656 while in exile in Holland Charles II raised a "Royal Regiment of Guards". When he was restored to the throne in 1660 he raised another bodyguard regiment which three years later was joined by the original companies from Flanders to become the "King's Regiment of Foot Guards". By 1685 they were known as "The First Regiment of Foot Guards" and in 1815 in honour of their defeat of the French Imperial Grenadiers at Waterloo they were granted the title "1st or Grenadier Regiment of Foot Guards". The Grenadiers are the senior of the five regiments of The Guards Division.
The Captain's dark blue frock coat although regarded as 'Undress' when introduced in 1830's is by today's standards an elegantly formal garment. Across the chest representing an obsolete form of fastening are six rows of double lace with hanging ends and olivets. Strapped overalls with a broad scarlet stripe are worn over parade Wellingtons with brass swan-necked spurs. The crimson sash is worn together with a slung sword.
In 1815 all ranks were granted the bearskin cap with white plume hitherto worn only by the Grenadier Company. Still the ceremonial headdress it is made from bearskin, dyed black, normally cut in three pieces, blocked and sewn over a cane cage. The Full Dress scarlet tunic worn by the Guardsman is piped in white. The buttons are evenly spaced on the front and cuffs. The Guardsman illustrated wears two good conduct chevrons in white worsted on a blue ground denoting 5 years service and a skill-at arms badge above.
Wellington Barracks with one of the old guardrooms on Birdcage Walk is shown in the background.
Published 1986
Copyright © 1986 Published by Geoff White Ltd.