THE QUEEN'S GUARDS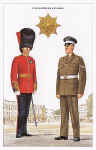 No. 22. Coldstream Guards
Lieutenant: Guard of Honour Order.
Lance Corporal: No. 2 Dress.
Background: Wellington Barracks, London.
From a watercolour painting by Douglas N. Anderson.
Postcard No. 22 COLDSTREAM GUARDS
Although embodied in 1650 as a Regiment of Cromwell's New Model Army the Coldstream Regiment under their Colonel, General Monck, was later instrumental in the restoration of the monarchy. In 1670 it was officially recognised as The Coldstream Regiment of Foot Guards and in 1817 as The Coldstream Guards.
The Guard of honour Order worn by the Lieutenant is used on occasions of state. The Officer's bearskin cap is similar in construction to the other rank's but is taller and tapered in outline. Traditionally it is made from the longer, silkier fur of the female bear. The tunic is of superfine scarlet cloth. Buttons are arranged in pairs indicating the Regiment's order of precedence in the Division. The sash is gold with crimson weave and fastens with a flat bow and hanging ends on the left hip. The sword is suspended on gold slings. On parade the sword is carried hooked by the upper scabbard ring to the belt, hilt backwards.
The Lance Corporal wears the regimental pattern forage cap with narrow brass rim and brass cap star. The no. 2 Dress khaki jacket has four evenly spaced buttons down the front. The rank of Lance Corporal is distinguished in the Foot Guards by two chevrons which in this uniform are worn on both upper sleeves in white worsted thread. The waist belt is buff leather with a brass locket with the regimental badge embossed on it. Boots are leather soled and studded.
The Regimental Headquarters are at Wellington Barracks in London, the view shown being the main facade from the parade ground looking west.
Published 1986
Copyright © 1986 Published by Geoff White Ltd.