THE QUEEN'S GUARDS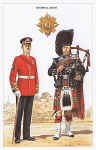 No. 23. Scots Guards
Raised in 1660
Drill Sergeant (WOII): Home Service Dress.
Piper: Full Dress.
Background: Edinburgh Castle.
From a watercolour painting by Douglas N. Anderson.

Postcard No. 23 SCOTS GUARDS
In 1660 Charles II reconstituted the Scottish 'Lyfe Guardes' which he had originally raised in 1642. By 1686 the Regiment had joined the English Army Establishment but in spite of undoubted seniority over the other two regiments of Foot Guards was placed third in Order of Precedence. The regiment has always maintained strong links with Scotland and proudly supports a band of pipes and drums in addition to the Regimental Band and Corps of Drums.
The Drill Sergeant wears the Home Service Dress. The forage cap is dark blue and for the Scots Guards it has a red welt and a red/white/blue diced band and no chin strap. The gold braid on the peak is according to rank. The scarlet tunic has dark blue facings and buttons in threes down the front and on the cuffs indicating the Regimental Order of Precedence. The Warrant Officer's elaborate arm badge is exclusive to the Guards. Drill boots are worn and a pace stick is carried.
The Piper is wearing Full Dress. The feathered bonnet has a red, white and blue diced band and the hackle is in the Royal Colours of blue and red. The dark blue doublet is piped in white. A dirk is worn and when ordered a Highland Broadsword is carried. Plaid and kilt are of Royal Stuart tartan. The Thistle Star appears in the centre of the plaid brooch and on the white chrome sporran cantle. A skean dhu is worn in the right stocking. The pipe ribbons are Royal Stuart and the bag cover Black Watch tartan.
Edinburgh Castle is shown in the background.
Published 1985

Copyright © 1985 Published by Geoff White Ltd.