THE QUEEN'S GUARDS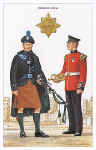 No. 24. Irish Guards
Piper: Home Service Clothing.
Musician: Home Service Clothing.
Background: Windsor Castle.
From a watercolour painting by Douglas N. Anderson.

Postcard No. 24 IRISH GUARDS
In recognition of the bravery of the Irish Regiments in the Boer War, Queen Victoria commanded the formation of a regiment of Irish Foot Guards in 1900. The regiment is unique in being, the only one of the Household Division with a Mascot, an Irish Wolfhound.
The uniform of the Irish Guard's pipers although superficially similar to Highland Dress is traditionally Irish in origin. The caubeen headdress is decorated with a St. Patrick's blue plume behind the Star of St. Patrick. The dark green tunic is cut away at the skirts. It has silver-anodised buttons in groups of four indicating the Regimental Order of Precedence. The saffron coloured kilt has two Celtic annular pins on green rosettes. Stockings are dark green with saffron garter flashes and the black brogue have fringed tongues. The cloak is worn open and secured by cloth straps crossing on the chest to leave the hands free. The pipes have green ribbons, cords and bags and although two-drone Irish pipes were formerly carried they are now of Highland pattern.
Each regiment of Guards has a band of 50 Musicians under a Director of Music. The forage cap is of Guards pattern and has an emerald green band and welt. The tunics of the Musicians are similar to those of other ranks with the exception of blue wings and gold lace. The buttons are grouped in fours. The belt locket is of regimental pattern and a white buff leather music pouch is carried on the right rear hip and bayonet on the left.
Windsor Castle is one of the Royal residences at which Household troops perform permanent duties.
Published 1986

Copyright © 1986 Published by Geoff White Ltd.