THE QUEEN'S GUARDS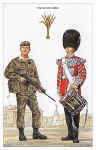 No. 25. Welsh Guards
Guardsman: Combat Dress, Patrol Order.
Drummer: Full Dress.
Background: Buckingham Palace.
From a watercolour painting by Douglas N. Anderson.

Postcard No. 25 WELSH GUARDS
The opportunity to have the Foot Guards associated with each of the countries of the United Kingdom occurred in 1915 when George V ordered the formation of a regiment of Welsh Guards. Transfers from the other regiments made it possible for the 1st Bn. to mount guard at Buckingham Palace only three days later.
The Guardsman is shown wearing Combat Dress with patrol order. The beret is khaki and the leek badge is embroidered in khaki worsted thread. The Self-Loading Rifle is carried as on internal security operations with the sling attached at the butt swivel only and thence to the right wrist.
The Welsh Guard's bearskin plume is white/green/white and for other ranks is of horse hair, 6 inches high and worn on the left. The tunic is regimentally distinguished by having buttons in fives on the front. The drums have a special significance in regimental lore and it has long been customary for the drummer's special status to be indicated by elaborate embellishments on their clothing. Consequently, the Full Dress tunics of drummers of the Guards are decorated in a traditional manner with white lace with a repeating pattern of blue fleur-de-lys. The waist belt supports a narrow apron which is secured around the left leg above the knee. The Guard's pattern drum is an adaptation of the old blue tension pattern having wooden hoops and a painted metal shell fitted with plated metal tension rods.
Buckingham Palace is amongst the Royal palaces and residences guarded daily by the Household Division. The famous facade is shown here with the impressive Victoria Memorial before it.
Published 1986

Copyright © 1986 Published by Geoff White Ltd.