THE SUPPORT ARMS AND SERVICES (1)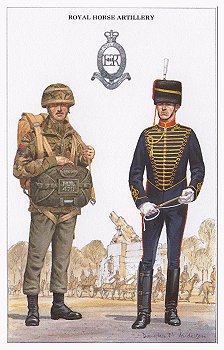 No. 3. Royal Horse Artillery
Gunner Parachutist: 7 RHA, Combat Dress.
Driver: King's Troop, Full Dress.
Background: Royal Artillery War Memorial, London
From a watercolour painting by Douglas N. Anderson.

Postcard No. 03 ROYAL HORSE ARTILLERY
The first mobile batteries of artillery in which all ranks were mounted were raised in 1793. Today there are three Royal Horse Artillery (RHA) regiments, of which one can be parachuted. In addition there is the ceremonial mounted king's Troop. When present with its guns on parade the RHA takes precedence over all other regiments and corps of the British army.
The Gunner illustrated is in combat jump kit. His ballistic helmet has a disrupted pattern material (DPM) cover with two looped foliage bands. He wears the 1971 pattern DPM parachutist's smock with bellow pockets, exposed zip and knitted wool cuffs. On the upper sleeve is his qualification badge with the distinctive regimental dropping zone flash below. a face veil is worn as a scarf. The main parachute is the PXI MK4 with its static line appearing over the left shoulder; clipped on the front is the PR7 reserve 'chute with red rip-cord handle visible on top.
The King's Troop is equipped with six 13pdr Field Guns and Limbers drawn by teams of six horses. The uniform is the pre 1914 Light Dragoon style Full Dress. The black busby is made of sealskin. The jacket is dark blue with scarlet facings (without collar badge) and fastening with ball buttons. It is ornamented with yellow braid. The pantaloons are dark blue with a scarlet stripe. The black mounted service boots have straight-necked nickel spurs. Drivers are mounted on the nearside of a pair of horses and as a protection wear a leg-iron on the right boot.
The King's Troop is shown passing the Royal Artillery War memorial at Hyde Park Corner, London.
Published 1987

Copyright © 1987 Published by Geoff White Ltd.