THE SUPPORT ARMS AND SERVICES (1)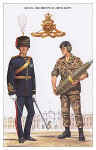 No. 18. Royal Regiment of Artillery
Director of Music: Full Dress.
Lance Bombardier: Field Regiment, Combat Dress.
Background: Royal Artillery Barracks, Woolwich.
From a watercolour painting by Douglas N. Anderson.

Postcard No. 18 ROYAL REGIMENT OF ARTILLERY
Prior to the Royal Warrant of George I dated 26 May 1716 which established the Royal Regiment of Artillery, artillery trains were assembled, manned and disbanded as required. Subsequent changes include the formation of the royal Horse Artillery (RHA), the Royal Field Artillery (RFA) and later the Royal Garrison Artillery (RGA). The Royal Regiment of Artillery has no colours or Guidons. Its guns are its colours. The Gunners take part in virtually every campaign and "Ubique" (Everywhere) is one of its mottoes. Since 1756 the Royal Regiment of Artillery has held privilege of parading on 'The Right of the Line'.
The Director of music is shown wearing special uniform for the Royal Artillery Band based on the Royal Regiment's uniforms of a hundred years ago. The black sable busby is that of the RHA. The dark blue tunic is from the RFA or RGA. The waist belt is an old regimental pattern with a snake buckle. The cross-belt supports a cartouche pouch at the rear. He wears patrol trousers, boots and spurs. His sword is slung from a belt below his tunic. He carries a conductors' baton.
The Lance Bombardier is one of a detachment of eight serving the Field Howitzer (FH70) 155mm Gun. He is shown here handling a 96lb high explosive shell. The ear defenders, worn over his beret, have an in-built receiver enabling instructions to be heard over the sound of firing.
In the background is seen the 18th Century Front Parade of Royal Artillery Barracks, Woolwich, home and headquarters of the Regiment.
Published 1987

Copyright © 1987 Published by Geoff White Ltd.