THE SUPPORT ARMS AND SERVICES (1)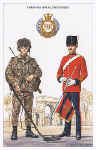 No. 19. Corps of Royal Engineers
Sapper: Combat Dress (Mine Detecting).
Bandsman: Full Dress.
Background: Brompton Barracks, Chatham.
From a watercolour painting by Douglas N. Anderson.

Postcard No. 19 CORPS OF ROYAL ENGINEERS
The story of the Sappers covers over 900 years of crowded history. The Military Engineers of Norman times were hand picked by the Monarch for their professionalism and held appointments by Royal Patent. In 1415 Henry V raised and "Office of Ordnance" with a permanent establishment of engineer and gunner officers. The title Royal Sappers and Miners came into use in 1813. Today's title of the Corps of Royal Engineers dates from 1856. over the years the growth of the Corp's responsibilities in such fields as aviation, transportation and signalling has led to the formation of separate arms.
The Sapper in combat dress is equipped for mine detecting. He is shown using the No. 4C Mine Detector which has been in service for may years and which can detect metal objects down to about 2 feet. Anti-blast goggles are worn.
The Regimental band was formed about 1856 and wore an ornate uniform with a bearskin cap of Foot Guards pattern. This was last worn in 1936 and the present headdress is the busby. It is of black sealskin with a Garter blue bag and white horsehair plume held in a brass grenade socket. The B flat silver fanfare trumpet carries a banner in the regimental colours with RE Cypher and crown in gold with the Corps Mottoes "Ubique" (Everywhere) and "Quo Fas et Gloria Ducant" (Where Right and Glory Lead) in gold on Garter blue scrolls.
In the background is the Crimean Memorial Arch at Brompton Barracks, Chatham. in which barracks is also located the Royal School of Military Engineering, Regimental Headquarters Royal Engineers and the Royal Engineers Museum.
Published 1987

Copyright © 1987 Published by Geoff White Ltd.