THE SUPPORT ARMS AND SERVICES (1)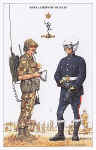 No. 20. Royal Corps of Signals
Corporal: Radio Operator, Tropical Combat Dress.
Palace Despatch Rider: No. 1 Dress.
Background: Combat Scene and Despatch Rider
From a watercolour painting by Douglas N. Anderson.

Postcard No. 20 ROYAL CORPS OF SIGNALS
With the advent of the electric telegraph military signalling gained a new sophistication and during the Crimean War was made the responsibility of the Royal Engineers (RE). C Telegraph Troop RE was formed in 1870 and became the Telegraph Battalion in 1884. Later advances included the field telephone and early wireless systems which the new RE Signal Service of 1908 was to develop in World War I along with the motor cycle despatch rider. A separate Corps of Signals was formed in 1920 with "Royal" status being granted in a matter of weeks.
The Corporal Radio Operator is shown wearing a tropical combat suit in lightweight disrupted pattern material. Rank chevrons are printed in black on an olive green patch and this NCO is a qualified parachutist. He wears a DPM bush hat and jungle boots made of canvas and leather. He carries his rifle slung. The radio is one of the Clansman range being a PRC 320 high frequency set weighting 11kg including battery. It has a range varying from 30khz to 320 khz according to the type of antennae being used.
When Her Majesty The Queen is resident in Buckingham Palace messages are carried there by the Palace despatch Rider (DR) daily from the Royal Signals Communications Centre in Whitehall. He wears No. 1 Dress with a white protective helmet and goggles. The tunic and breeches are dark blue. The latter has a scarlet stripe and leather strappings. He rides a Triumph Tiger 750 motor cycle with white fairings.
Combat linemen are shown in action in the background with combat radiomen working on a radio mast. The Palace DR is shown mounted.
Published 1987

Copyright © 1987 Published by Geoff White Ltd.