THE CAVALRY (1)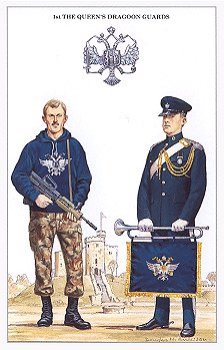 No. 4. 1st The Queen's Dragoon Guards
Trooper: Training dress
Trumpeter: No. 1 Dress
Background: Cardiff Castle
From a watercolour painting by Douglas N. Anderson

Postcard No. 04 1st THE QUEEN'S DRAGOON GUARDS
The regiment was formed in 1959 by the amalgamation of the 1st King's Dragoon Guards and the Queen's Bay's (2nd Dragoon Guards). Both former regiments had been raised in 1685 and were the two senior cavalry regiments of the line.
The long-sleeved training top worn by the Trooper has a draw string hood and a wide winged version of the Regimental Badge printed in white on the front. Disruptive pattern trousers are worn with combat boots. This form of dress is used principally for fitness training. The individual weapon for armoured personal the Small Arms 80 (SA80) is fitted with an iron rather than an optical sight.
The dark blue forage cap worn by the Trumpeter in No 1 Dress has a blue velvet band and piping and regimental cap badge. The tunic has flapped breast and side pockets. The steel shoulder chains are a feature of cavalry undress. Aiguillettes of plaited gold cord with points were sanctioned for bandsmen of Dragoon Guards and Dragoons in 1925 are worn on the left shoulder and looped to the top button. The silver signal trumpet has, for ceremonial use, a dark blue banner fringed in gold displaying the Austro-Hungarian Eagle embroidered in heraldic colours. The Emperor Franz Joseph was Colonel-in-Chief of the King's Dragoon Guards from 1896 until 1914, when use of the Eagle was discontinued. It was adopted again in 1938 and appears in a clipped or wide winged design according to use and available space.
The Regiment's Home Headquarters are in Maindy Barracks, Cardiff and the Regimental Museum is situated in Cardiff Castle.
Published 1990

Copyright © 1990 Published by Geoff White Ltd.