THE CAVALRY (1)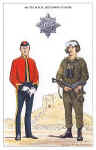 No. 6. 4th/7th Royal Dragoon Guards
Captain: Mess Dress
Corporal: Tank Dress
Background: Cliffords Tower, York
From a watercolour painting by Douglas N. Anderson

Postcard No. 6 4th/7th ROYAL DRAGOON GUARDS
The regiment was formed in the 1922 cavalry amalgamations from the 4th Royal Irish Dragoon Guards and the 7th Dragoon Guards (Princess Royal's). The former was raised in 1685 as the Earl of Arran's Cuirassiers for service under King James II. The 7th Dragoon Guards were raised as the Earl of Devonshire's regiment of Horse in 1688 for service under William of Orange.
The officers' undress side hat worn with Mess Dress has a red top with blue "slash" and blue sides all edged in gold Russia braid and with embroidered wire badge. The use of the undress stable jacket for wear in the mess gained general acceptance about 1860. The custom arose in India. The present mess jacket is scarlet with blue velvet collar and cuffs edged with gold lace. The waistcoat is dark blue, with a stand collar. The overalls are blue with a 2" gold stripe and are worn over mess Wellingtons with silver chased spurs.
The Corporal wears a standard tank crewman's helmet which incorporates two ear pieces and a microphone to allow continuous communications. On his chest hangs his commanders' personal unit which is connected to the tank radio sets. A selector switch allows him to communicate on either of the two frequencies or internally with the other crewmen. The expensive general purpose binoculars have a large depth of field which eliminates the need for focusing. Olive green overalls are worn. His personal weapon is the 9mm Sterling sub-machine gun.
Cliffords Tower, an early defence on the River Ouse is opposite the Home Headquarters and Regimental Museum in York.
Published 1990

Copyright © 1990 Published by Geoff White Ltd.