THE CAVALRY (1)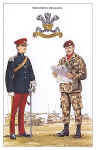 No. 11. The Royal Hussars
Lieutenant, Orderly Officer: No. 1 Dress
Corporal, Tank Commander: Combat Dress
Background: Challenger Main Battle Tank and other Fighting Vehicles
From a watercolour painting by Douglas N. Anderson

Postcard No. 11 THE ROYAL HUSSARS (PRINCE OF WALES'S OWN)
In 1969 the 10th royal Hussars (Prince of Wales's Own) and the 11th Hussars (Prince Albert's Own) amalgamated to form The Royal Hussars (Prince of Wales's Own). Both were among three regiments of Dragoons to be raised in 1715. They were converted to Light Dragoons in 1783. In that year the 10th gained Royal Patronage and converted to Hussars in 1806. The prefix 'Royal' was granted in 1811. The 11th Light Dragoons became Hussar in 1840 and were titled 'Prince Albert's Own'.
The Lieutenant shown is Orderly Officer and wears No. 1 Dress. His unique crimson forage cap is inherited from the 11th Hussars and is decorated with the Regimental Badge and gold embroidery on the peak. The dark blue No. 1 Dress tunic is the 10th Hussars pattern with plain breast pockets and scalloped side pocket flaps. The cross belt is very unusual, there being only three of the pattern in the Regiment, one of which is worn by the Orderly Officer. The distinctive crimson officers' overalls have a double yellow stripe whilst those of other ranks are plain. The 1912 pattern sword is carried on crimson leather and gold lace slings. Plated steel swan-necked box spurs are worn.
The reddish brown beret of the Corporal Tank Commander has the Regimental Badge on a crimson cloth patch. A crimson polo neck pullover is worn below the khaki shirt. Equipment consists of waistbelt, Browning 9mm pistol with lanyard and case and self-focusing binoculars.
A Challenger Tank and vehicles of the Combat Vehicle Reconnaissance (Tracked) or CVR (T) family are shown in the background.

Copyright © 1990 Published by Geoff White Ltd.