THE CAVALRY (1)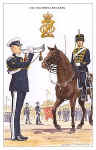 No. 12. 13th/18th Royal Hussars
Duty Trumpeter: No. 1 Dress
Mounted Trooper: Full Dress
Background: Parade Scene with Guidon
From a watercolour painting by Douglas N. Anderson

Postcard No. 12 13th/18thROYAL HUSSARS (QUEEN MARY'S OWN)
The Regiment was formed in the 1922 cavalry reduction by the amalgamation of the 13th Hussars and the 18th Hussars (Queen Mary's Own). The 13th were raised as Munden's Dragoons in 1715 and converted to Hussars in 1861. The 18th were raised in 1759 by the Marquis of Drogheda as Light Horse and became the 18th Hussars in 1805. Disbanded in 1822 a new 18th raised in Leeds in 1858 was permitted to revive the Honours of the old. The title "Queen Mary's Own" (QMO) was conferred in 1910.
The Duty Trumpeter's forage cap is dark blue with a distinctive white top which perpetuates the facings of the 13th Hussars and their old nickname 'The Lilywhites'. The regulation No. 1 Dress jacket has white gorget patches and steel shoulder chains. The lyre badge of a bandsman is worn on the upper right sleeve with the QMO badge and crossed trumpets on the lower sleeve. Strapped overalls and spurs are worn. The silver E flat cavalry trumpet is carried on cords royal of mixed red, yellow and blue worsted.
The Mounted Trooper Full Dress. His busby is of black dyed sealskin. Across the chest of his dark blue tunic are six bars of double yellow worsted cord. As with the trumpeter overalls and spurs are worn. Horse furniture consists of the colonial pattern saddle and bridle, head rope, martingale and breastplate. A black lambskin covers the wallets in the front of the saddle. The regimental pattern saddlecloth with badge in the rear corner is worn.
The background shows the Guidon carried on parade.
Published 1990

Copyright © 1990 Published by Geoff White Ltd.