THE CAVALRY (1)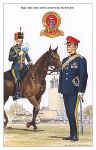 No. 14. 15th/19th The King's Royal Hussars
Lance Corporal, Farrier: Full Dress
Regimental Sergeant Major: No. 1 Dress
Background: Civic Centre, Newcastle-upon-Tyne
From a watercolour painting by Douglas N. Anderson

Postcard No. 14 15th/19th THE KING'S ROYAL HUSSARS
In 1759 five regiments of Light Dragoons numbered 15th to 19th were raised for regular service. The 15th was known as Eliotts Light Horse. In 1766 George III conferred the title The King's Light Dragoons and in 1807 the style changed again when the regiment was converted to Hussars. In the cavalry reductions of 1922 the 15th was amalgamated with the 19th. The latter. however, was not the original 19th but a regiment of Hussars who assumed the number in 1861 and in 1874 were permitted the Honours of the previous 19th Light Dragoons.
The Lance Corporal Farrier's black sealskin busby has the scarlet cloth bag and plume of the 15th Hussars. His dark blue tunic is piped yellow and laced with six double horizontal bars across the chest. The chevron and farrier's horseshoe badge are gold on scarlet. His pantaloons have a double yellow stripe. Knee boots and jack spurs are worn. His axe was forged by the Regiments to a design of 1760.
The Regimental Sergeant Major's No. 1 dress uniform is basically an officers' pattern. The scarlet forage cap has a gold braided peak (originally a Heavy Cavalry distinction). The tunic is the standard No. 1 Dress pattern but with the collar edged with Austrian weave lace and Russian braid. The shoulder chains are unusual having squared ends. the pouch belt is the old 19th Hussars officers' pattern. The strapped overalls are worn over Wellingtons with box spurs. The 1912 officers' pattern sword is carried.
The background shows a Scimitar tracked combat reconnaissance vehicle before Newcastle-upon-Tyne City's imposing Civic Centre.
Published 1990

Copyright © 1990 Published by Geoff White Ltd.