THE CAVALRY (1)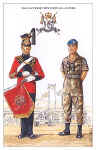 No. 15. 16th/5th The Queen's Royal Lancers
Trumpet Major: Full Dress
Corporal: Combat Dress, UNFICYP
Background: Regimental Barracks, Cyprus
From a watercolour painting by Christopher A. Collins

Postcard No. 15 16th/5th THE QUEEN'S ROYAL LANCERS
The regiment was formed in April 1922 by the Amalgamation of the 16th the Queen's Lancers and the 5th Royal Irish Lancers. The reversed order of seniority is due to the fact that the 5th Royal Irish Lancers who were originally raised in 1689, were disbanded in 1799 and reinstated by Queen Victoria as the junior cavalry regiment in 1858. The 16th The Queen's Lancers were raised by Colonel Burgoyne in 1789 as the 16th Regiment of (Light) dragoons. The 5th Royal Irish Lancers were raised by Colonel Wynne.
The Trumpet major's Full Dress lancer cap carries a black plume on a brass plate (16th Lancers). The 16th being unique amongst the lancer regiments in wearing a scarlet tunic were nicknamed "The Scarlet Lancers". The rank badge has a silver crowned Irish Harp superimposed upon it. The device embroidered on the trumpet is the same as that originally devised for a brooch presented to Her Royal Highness the Princess Elizabeth when she was appointed Colonel-in-Chief on the occasion of her 21st Birthday.
Troops serving with the United Nations Forces in Cyprus (UNFICYP) exchange their normal headdress for the pale blue UN beret with its white and gold emblem. The Corporal's combat suit is of a light tropical pattern. On his left sleeve he wears the UN device embroidered white in a pale blue ground, below this is an embroidered Union Flag.
The background scene is set in Cyprus where squadrons of the Regiments have served several tours. The Ferret scout car painted with UN markings stands in front of the Squadron Headquarters.
Published 1990

Copyright © 1990 Published by Geoff White Ltd.