THE CAVALRY (2)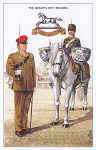 No. 8. The Queen's Own Hussars
Regimental Sergeant major: No. 2 Dress (Ceremonial)
Kettle Drummer: Full Dress
Background: Officers Mess, Germany
From a watercolour painting by Christopher A. Collins.

Postcard No. 8 THE QUEEN'S OWN HUSSARS
The Queen's Own Hussars were formed at Candahar Barracks, Tidworth, Hampshire on 3rd November 1958 by the amalgamation of the 3rd the King's Own Hussars and the 7th Queen's Own Hussars. The history of the Regiment dates back to 1685 when James I authorised the formation of the 3rd Hussars. The 7th Hussars were raised in 1689 for the particular task of keeping order in the Highlands of Scotland.
At the famous victory at Dettingen the Regiment captured a pair of silver kettle drums from the French and as a mark of distinction the King ordered that they should be allowed a kettle drummer and horse in excess to their establishment. The Drum Horse shown here is Peninsula named after another battle honour shared by both the 3rd and 7th Hussars and presented to the Regiment by Her Majesty Queen Elizabeth the Queen Mother, The Colonel in Chief, on 4th May 1988. In commemoration of the battle of Dettingen the silver kettle drums of the 3rd Hussars were never covered on parade, drum banners not being carried as they are in other Regiments of cavalry. This tradition is continued today with The Queen's Royal Hussars.
The Regimental Sergeant Major wears officers' uniform including the wearing of the Regimental Crest on the forage cap. The crest is the officer's No. 1 Dress hat badge and the beret badge and is also born at the centre of the Guidon.
Scholoss Bredbeck shown in the background was built in 1902. During World war Two it was used to accommodate wounded German Officers. It is shown here as the Officers' Mess of the Queen's Own Hussars.
Published 1993

Copyright © 1993 Published by Geoff White Ltd.