OTHER REGIMENTS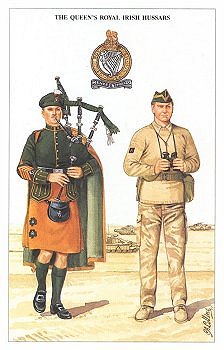 No. 9. The Queen's Royal Irish Hussars
Pipe Major: Ceremonial Dress
Officer: Desert Dress
Background: Desert Combat Scene
From a watercolour painting by Christopher A. Collins.

Postcard No. 09 THE QUEEN'S ROYAL IRISH HUSSARS
The Queen's Royal Irish Hussars were formed on the 24th October 1958 from two old cavalry regiments - the 4th Queen's Own Hussars and the 8th King's Royal Irish Hussars. Both regiments charged down the Valley of Death with the Light Brigade at Balaklava on the 25th October 1854. The 4th Hussars were raised in 1685 and were known as Berkley's Dragoons. The 8th Hussars were raised in 1693 from the Protestant survivors of the siege of Londonderry. In October 1990 the Regiment deployed to the Gulf on Operation Granby as part of the 7th Armoured Brigade.
The Pipe Major is shown wearing a dark green caubeen with a white over red hackle emerging from the top of his badge. His rank insignia are worn on the right sleeve of his dark green single breasted gold piped tunic. His kilt is saffron as is his cloak which is lined with dark green satin. Unlike the bandsmen whose wartime roles are as medics, the pipers are selected from the trained armoured troops.
The Officer's dress is typical of that worn by the Regiment during the Gulf War. On his head he has a 'tent' hat. His regimental pullover is worn over body armour and has the Desert Rat formation sign on the right sleeve. On his belt he carries a pistol holster and water bottle. He wears desert DPM trousers and desert boots. He carries standard service binoculars.
The background scene shows the regiment's Challenger tanks with Gulf War markings. They are carrying extra drums of fuel on the rear.
Published 1994

Copyright © 1994 Published by Geoff White Ltd.