OTHER REGIMENTS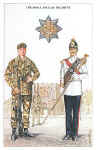 No. 31. The Royal Anglian Regiment
Sergeant: Combat Dress
Drum Major: Tropical Ceremonial Dress
Background: The Abbey Gate, Bury St. Edmunds
From a watercolour painting by Christopher A. Collins.

Postcard No. 31 THE ROYAL ANGLIAN REGIMENT
The Royal Anglian Regiment was formed in 1964 as a result of the reorganisation and amalgamation of the following old and famous infantry regiments:
The Royal Norfolk regiment - raised in 1685.
The Royal Lincolnshire regiment - raised in 1685.
The Suffolk Regiment - raised in 1685.
The Bedfordshire Regiment - raised in 1688. The additional title of Hertfordshire was added in 1919.
The Royal Leicestershire Regiment - raised in 1688.
The Essex Regiment - raised in 1741.
The Northamptonshire Regiment - raised in 1741.

The Sergeant's khaki beret has the Regimental Cap Badge mounted on a black flash. He wears standard combat dress and basic patrol order webbing. He is holding the new Accuracy International 7.62mm Sniper Rifle. This is fitted with a telescopic sight which allows accurate fire out to a range of 1000m. It is a single shot bolt action weapon and is provided with a light adjustable folding bipod to steady the aim.
The Drum Major wears a white tropical tunic decorated with drum major's accoutrements and dark blue trousers with a red stripe. He carries a sword slung from his white belt. His medals are worn on his ornate Drum Major's sash. His uniform is additionally decorated with red and yellow roses signifying it is Minden Day (august 1st), which was the chief battle honour of The Suffolk Regiment but has now been adopted as the principle battle honour of all Royal Anglian Regiment battalions.
In front of the Abbey Gate at Bury St. Edmunds which is shown in the background is standing a fully camouflaged sniper.
Published 1994

Copyright © 1994 Published by Geoff White Ltd.