OTHER REGIMENTS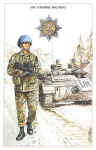 No. 37. The Cheshire Regiment
Sergeant: Combat Order, UN Bosnia
Warrior, Infantry Fighting Vehicle: UN Bosnia
Background: Winter, Scene, Bosnia
From a watercolour painting by Christopher A. Collins.

Postcard No. 37 THE CHESHIRE REGIMENT
The Cheshire Regiment is one of the oldest in the British Army, with a history dating back over 300 years. It was formed in the Wirral by Henry, 7th Duke of Norfolk, in 1689, for service in Ireland. Tradition has it that in 1743 at the Battle of Dettingen, King George II was saved from capture by a detachment of the Regiment. To commemorate this event he plucked a twig of oak which, as he desired, has since become the Regiment's badge. It was part of Napier's army in the Scinde campaign in 1843 where he named it 'That Ever Glorious Regiment' and it gained the battle honour Meeanee - an event which is still celebrated each year.
In the Autumn of 1992 the British Government at the request of the United Nations, sent a force of some 1.800 troops including the 1st Battalion, The Cheshire Regiment to escort relief convoys to besieged areas of Bosnia. The Cheshire Battalion Group consisting of about 800 men was based at Vitez in central Bosnia. The sergeant illustrated wears Combat dress with the United Nations (UN) plain blue cloth badge cover over his helmet. He wears a UN cloth badge and a Union Jack on his sleeve. Under his tunic he would be wearing a flack jacket. His SA80 is attached to his body.
The Warrior Infantry Fighting Vehicle of the Cheshire Battle Group shown here pained white with UN markings. It has been up-armoured with extra Chabham plating, a mixture of ceramic and armoured sheets.
The background scene shows the typical mountainous terrain in which the Battalion Group operated.
Published 1994

Copyright © 1994 Published by Geoff White Ltd.