THE CAVALRY (2)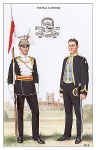 No. 16. 17th/21st Lancers
Trooper: Full Dress.
2nd Lieutenant: Mess Dress.
Background: Belvoir Castle, Lincolnshire.
From a watercolour painting by William R. Younghusband.

Postcard No. 16 THE 17th/21st LANCERS
In 1759, after the successful storming of Quebec, the King commissioned Colonel Hale to raise a regiment of cavalry and the 17th light dragoons was formed. The regiment's principal distinction a Death's Head, with the motto "Or Glory", was chosen to commemorate Wolfe's death. In 1854, during the Crimea War, the regiment led the famous "Charge of the Light Brigade". The 21st Light Dragoons were first raised in 1760, but it was not until 1897, when they were the only cavalry element in a force sent to conquer the Sudan, that they were given the opportunity to prove themselves. The Charge against the Dervishes at Omdurman, immortalised by Sir Winston Churchill who participated in it, resulted in the Regiment winning three Victoria Crosses. The 17th and 21st Lancers were amalgamated in 1922.
The Trooper's lancer helmet is a copy of the old lancer cap or chapska. This form of headdress, which was popular with European lancer units in the last century, derived from the four-sided flat-topped caps which were characteristic of the Polish Army in Napoleonic times. The yellow cap-line is fixed to the cap and to the tunic so that the cap will not become lost if it falls off during a charge. His tunic has a white front and facings. His overall trousers have two white stripes.
The Officer wears a dark blue mess jacket with silver Prince of Wales plumes badge on his upper left sleeve and dark blue overalls with double white stripe. His waistcoat is of regimental pattern.
Belvoir Castle in Leicestershire, is home to the regimental Museum and seat of the Duke of Rutland.
Published 1992

Copyright © 1992 Published by Geoff White Ltd.