THE CAVALRY (2)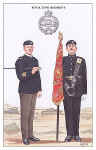 No. 17. Royal Tank Regiment
Regimental Sergeant Major: Barrack Dress
Regimental Quartermaster Sergeant: No. 1 Dress
Background: Exercise Scene
From a watercolour painting by William R. Younghusband.

Postcard No. 17 ROYAL TANK REGIMENT
Tanks were first used in battle as part of the Heavy Section, Machine Gun Corps, at Flers on 15th September 1916. On 28th July of the following year the new arm became a Corps in its own right and the Tank Corps fought its most well known battle at Cambrai on 20th November 1917. In 1923, His Majesty King George V ordered the title to be changed to Royal Tank Corps (RTC). Mechanisation of the Cavalry in the following years led to the formation, in April 1939, of the Royal Armoured Corps comprising the newly mechanised regiments of the Cavalry and the RCT battalions. For the RTC this meant a change in title to Royal Tank Regiment (RTR)
The Regimental Sergeant Major is wearing the black Guernsey and shoulder flash for the Royal Tank Regiment. His headdress is the distinctive black beret which was officially approved for use in 1924. Black was selected as it would not show the oil stains which were impossible to avoid when working inside a tank.
As Standard Bearer the Regimental Quartermaster Sergeant, who is from 2RTR, is one of those who still wears No. 1 Dress on special occasions. His shoulder belt mounts a brass plate bearing the Regimental Badge over a Roman II. The silver clips on the belt are inscribed with the Regiment's Battle Honours. Standards were first presented to the Royal Tank Regiment by Her Majesty The Queen at Buckingham Palace in October 1960. The Regiments carry similar Standards but with their individual regimental numbers.
In the background a Challenger tank is shown in an exercise setting with a Scorpion reconnaissance vehicle.
Published 1991

Copyright © 1991 Published by Geoff White Ltd.