THE SCOTTISH REGIMENTS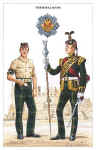 No. 26 The Royal Scots
Raised in 1633.
Corporal, Regimental Police: Barrack Dress (Shirt Sleeve Order).
Drum Major: No.1 Dress.
Background: Edinburgh Castle.
From a watercolour painting by Douglas N. Anderson.
Postcard No. 26 THE ROYAL SCOTS (The Royal Regiment)
The Royal Scots has the proud distinction of being the oldest regiment of the British Army and senior regiment of the line. It was raised with Royal authority in Scotland in 1633 for service in France. It was granted Royal status in 1684 and numbered First of Foot in 1751. Although Lowland Scottish dress was not adopted until 1881 national associations have always been strong and pipers maintained from the start.
The Corporal of the regimental police is in barrack dress (shirt sleeve order). His dark blue glengarry bonnet has red, white and green dicing and a cap badge on a black silk rosette. The regulation shirt is open necked with sleeves folded up. The duty brassard is tartan with worsted chevrons and "RP" in red cloth. Trews are of Hunting Stuart tartan. This was granted in 1901 in place of the Government tartan then worn. Shoes are black brogues.
The Drum Major's bonnet is as before but with an officer's silver badge and the black cock's feathers which are a regimental feature of ceremonial dress. His No. 1 Dress doublet is the archer green Highland pattern introduced in 1981. An officer's sash is worn but on the right shoulder. The Highland broadsword is carried hooked up, hilt facing rearward. The drum belt is lavishly decorated with gold embroidered regimental devices and battle honours. The mace is of unusual design being 6'2" overall and having embossed silver orb surmounted by St. Andrew and with silver thistle-headed tassels on the chains.
The Regimental Headquarters and Museum are situated in Edinburgh Castle which is shown from the Esplanade.
Published 1985.
Copyright © 1995 Published by Geoff White Ltd.