THE SCOTTISH REGIMENTS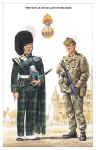 No. 36 The Royal Highland Fusiliers
Formed in 1959 by the amalgamation of The Royal Scots Fusiliers and The Highland Light Infantry.
Bandsman: No. 1 Dress.
Fusilier: Combat Dress (Internal Security).
Background: City Chambers and George Square, Glasgow.
From a watercolour painting by Douglas N. Anderson.
Postcard No. 36 THE ROYAL HIGHLAND FUSILIERS (Princess Margaret's Own Glasgow and Ayrshire Regiment)
The Regiment was formed in 1959 in the amalgamation of two regiments with differing backgrounds - the one Lowland and Fusilier, the other Highland and Light Infantry. The Royal Scots Fusiliers, formerly the 21st Foot, was raised in 1678. The Highland Light Infantry (HLI) was the product of the amalgamation in 1881 of the 71st Highland Light Infantry and the 74th Highlanders. An exceptional distinction of The Royal Highland Fusiliers is that three colours are carried. The third being the unique Assaye Colour of the 74th.
The feather bonnet of the Bandsman in No. 1 Dress has a special badge being the Star of the Order of the Thistle with grenade superimposed. The archer green doublet has a gilt wire musician badge on the right upper arm. A white-metal mounted dirk is carried on the right rear hip. The full plaid and trews are Mackenzie tartan in the HLI sett. Spats are worn for ceremonial.
The Fusilier's khaki Tam O'Shanter has a square patch of Mackenzie tartan on the left side and a cut-feathers white hackle. The smock and trousers are in Disruptive Pattern Material. Equipment is the 1958 pattern webbing. It is shown here in patrol or belt order being one or two pouches and water bottle only. On internal security operations the rifle sling is attached to the wrist. Khaki putties are worn with boots.
The Regimental Headquarters and Museum are in Glasgow and the figures are shown in the city centre with Glasgow Square and the City Chambers in the background.
Published 1985
Copyright © 1995 Published by Geoff White Ltd.