THE SCOTTISH REGIMENTS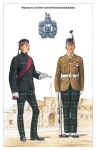 No. 40 The King's Own Scottish Borderers
Raised in 1689
Lieutenant: Orderly Officer (Evening).
Lance Corporal: No. 2 Dress (Ceremonial).
Background: The Barracks, Berwick-Upon-Tweed.
From a watercolour painting by Douglas N. Anderson.
Postcard No. 40 THE KING'S OWN SCOTTISH BORDERERS
The regiment was raised for the defence of Edinburgh in 1689 by Leslie, Third Earl of Leven. In 1751 it was numbered 25th (Edinburgh) Foot. A proposal in 1881 to locate the Regiment at York was vigorously contested and in consequence a Depot at Berwick-Upon-Tweed was granted. The present title was authorised in 1882.
The Lieutenant is shown dressed as the Orderly Officer in Evening wear. The glengarry bonnet is dark blue with red/white/dark green dicing, red toori and regimental badge on a black silk rosette. The dark blue patrol jacket is still permitted for wear in Mess by the Orderly Officer. The officer's pattern crimson silk sash indicates that the wearer is on duty. Trews are of Leslie tartan, worn since 1904 and for Mess are in fine material and are strapped below the black patent leather mess Wellingtons. The officer's sett varied from the OR's in having a white line on the bottom edge. A regimental cane is carried.
The Lance Corporal is wearing No. 2 Dress (Ceremonial). In this dress a black cock feather is worn behind the cap badge, this was introduced in 1903. There having been no individual issue of No. 1 Dress since 1969 the khaki No. 2 Dress has become the Army's principal parade dress. For Scottish Regiments it has rounded skirts. Trews are Leslie tartan worn with 'Shoes Highland' and the 'Spats Lowland'. In ceremonial dress medals are worn along with white belts and gloves.
The Barracks at Berwick-Upon-Tweed houses the Regimental Headquarters and Museum. The painting show the Main Gate with its carved 18th century Royal Arms.
Published 1985
Copyright © 1995 Published by Geoff White Ltd.