THE SCOTTISH REGIMENTS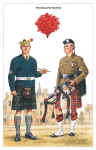 No. 48 The Black Watch
Formed in 1881 by the amalgamation of the 42nd Royal Highlanders (Black Watch) and the 73rd (Perthshire) Regiment of Foot.
Colour Sergeant: Working Dress.
Piper: No. 2 Dress (Ceremonial).
Background: Balhousie Castle, Perth.
From a watercolour painting by Douglas N. Anderson.
Postcard No. 48 THE BLACK WATCH (Royal Highlander Regiment)
In 1725 Independent Companies recruited from loyal clans were raised to police the Highlands of Scotland. They were named from the dark tartan they wore and the watch they kept over the Highlands, keeping the peace between the clans. In 1739 The Black Watch was formed into a Regiment of Foot. It gave its name to the tartan which was otherwise known as the 'Government' or 'Universal' tartan.
The Colour Sergeant wears the khaki Tam O'Shanter on the modern design, square on the head and pulled down at the front. Sergeants and above wear a pullover of Regimental pattern in heavy double knit marled green/blue wool. The purse of sporran is of brown leather with a silver badge. Stockings are Lovat with double red fish-tailed garter flashes. Shoes are highland brogues. A Regimental cane is carried.
The Piper is wearing No. 2 Dress (Ceremonial). His black glengarry has a red toorie and the white metal badge. The black dirk belt has a polished silver plate with numerals '42'. A silver-mounted dirk is carried on the right rear hip and not visible in the painting. Royal Stuart tartan is worn by the Pipers. The hair purse has a gilt cantle and double ribbons of Royal Stuart over Black Watch and the bag-cover is Black Watch tartan.
The Regimental Headquarters and the Museum are in Balhousie Castle, Perth, formally the home of the Earls of Kinnoull.
Published 1985
Copyright © 1995 Published by Geoff White Ltd.