THE SCOTTISH REGIMENTS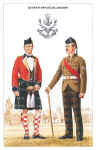 No. 50 Queen's Own Highlanders
Formed in 1961 by the amalgamation of the Seaforth Highlanders and The Queen's Own Cameron Highlanders.
Major: Mess Dress.
Sergeant: No. 2 Dress (Trews).
Background: Cameron Barracks, Inverness.
From a watercolour painting by Douglas N. Anderson.
Postcard No. 50 QUEEN'S OWN HIGHLANDERS (Seaforth and Camerons)
The Regiment was formed in 1961 by the amalgamation of the Seaforth Highlanders and the Queen's Own Cameron Highlanders. The forebears of the former had been the 72nd and the 78th Highlanders raised respectively in 1778 and 1793, both by Mackenzies of Seaforth, and united as Seaforth Highlanders in 1881. The 79th was raised by Alan Cameron of Errecht and in 1873 designated The Queen's Own Cameron Highlanders.
The Major's dark blue bonnet has an officer's badge on a black silk rosette and a small hackle of Royal blue feathers behind the badge, the latter being a Camerons' distinction dating from 1940. The scarlet mess jacket is derived from the 19th century shell jacket which replaced the full dress coatee for dining in mess in the late 1850's. The waistcoat is of 79th tartan cut on the cross with Seaforth gilt cairngorm-mounted buttons. Field officers wear a gilt-mounted dirk. The kilt is Mackenzie tartan. A kilt pin is worn. The sporran is the old Cameron pattern with a gilt cantle. The shoes are brogues with straps and buckles and a sgian dubh is carried in the stocking.
The Sergeant's glengarry has a three piece badge. The Scottish Division pattern No. 2 Dress jacket has Regimental buttons. The white waistbelt has a polished brass plate with former Cameron bonnet badge in white metal. Trews of 79th or Cameron Erracht tartan are worn with Highland shoes. The stick has a crested silver thimble top.
The figures are shown in Cameron Barracks, Inverness which houses the Regimental Headquarters.
Published 1985
Copyright © 1995 Published by Geoff White Ltd.