THE SCOTTISH REGIMENTS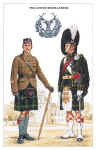 No. 51 The Gordon Highlanders
Formed in 1881 by the amalgamation of the 75th (Stirlingshire) Regiment of Foot and 92nd (Gordon Highlanders) Regiment of Foot.
Regimental Sergement Major (WO1): No. 2 Dress.
Bandmaster: No. 1 Dress
Background: Crathes Castle, Aberdeenshire.
From a watercolour painting by Douglas N. Anderson.
Postcard No. 51 THE GORDON HIGHLANDERS
In 1881 the Gordon Highlanders were formed from the amalgamation of the 75th and 92nd Regiments. The 75th (Stirlingshire) Regiment had been formed in 1787. The 92nd was raised in 1794 by the Duke of Gordon assisted according to legend, by the beautiful Duchess Jean who promised a guinea and a kiss to all who enlisted.
A Regimental tartan was created by the addition of yellow lines to the Universal sett. This became known as the Gordon Tartan. The No. 2 Dress of the Regimental Sergeant Major is identical to an officer's in all respects except for insignia of rank. The kilt as worn by officers has a "box" of yellow lines around the purse; for rank and file a yellow line is centred through the purse. A kilt pin is worn. The purse is brown leather with silver crest of crowned stag's head and scroll. Stockings have lops of the double fish-tailed garter flashes 'belled' in the distinctive Gordon's fashion.
The green doublet of the Bandmaster has embroidered tiger collar badges inherited from the 75th. The gold shoulder cords have thin black piping intertwined; similarly the gold dirk belt shows two black lines. A 'fly' plaid secured by a silver brooch is worn over the left shoulder. The sporran is the old full dress pattern with gold bullion tassels. The spats had the traditional and unique black buttons and straps of the 92nd in honour of Sir John Moore.
The figures are shown at Crathes Castle, Aberdeenshire which has strong Regimental connections. The Regimental Headquarters and Museum are in Aberdeen.
Published 1985
Copyright © 1995 Published by Geoff White Ltd.