THE SCOTTISH REGIMENTS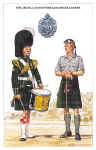 No. 52 The Argyll and Sutherland Highlanders
Formed in 1881 by the amalgamation of the 91st (Princess Louise's) Argyllshire Highlanders and the 93rd (Sutherland Highlanders) Regiment of Foot.
Drummer: No. 1 Dress.
Captain: Working Dress (Shirt Sleeve Order).
Background: Stirling Castle.
From a watercolour painting by Douglas N. Anderson.
Postcard No. 52 ARGYLL AND SUTHERLAND HIGHLANDERS (Princess Louise's)
The present Regiment was formed in the reorganisation of 1881 by the amalgamation of the 91st Argyllshire Highlanders and the 93rd Sutherland Highlanders. The 91st as raised in 1794 and became "Princess Louise's" in 1872. The 93rd was raised in 1799 and later achieved immortality as "The thin Red Line". An Extraordinary episode occurred in 1968 when a proposal to disband the Regiment encountered such vigorous public opposition in Scotland that it was allowed to survive.
The feather bonnet worn by the Drummer in No. 1 Dress has red/white dicing, six "fish-tails" and the tip of the hackle is fastened over the top of the bonnet in the old manner. The Archer green doublet has white loops and piping. A brass-mounted copper regulation duty bugle is carried. The kilt is in Government tartan in a slightly larger sett and with brighter green than for the Black Watch. A fly plaid hangs behind the left shoulder. The sporran is pushed to the left rear to clear the drum. His tops (footless stockings) are worn with spats and shoes.
The Captain in shirt sleeve order wears the officer's distinctive grey shirt. His kilt has a decorative panel on the apron. The '37 pattern web belt has its rear buckles removed. Lovat stockings with red garter flashes are worn with Highland brogues. A sgian dubh is worn. The cromag (Gaelic for a shepherd's crook) is popular with Highland officers and carried on permitted occasions.
Stirling Castle is the home of the Regiment and houses the Regimental Headquarters and Museum.
Published 1985
Copyright © 1995 Published by Geoff White Ltd.