BRITISH INFANTRY REGIMENTS (1)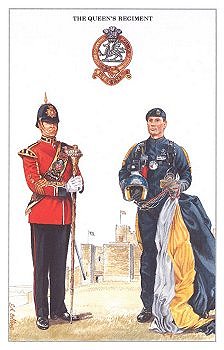 No. 27. The Queen's Regiment
Drum Major: Full Dress
'Flying Dragons' Team Member: Jump Dress.
Background: Dover Castle.
From a watercolour painting by Christopher A. Collins.

Postcards No. 27 THE QUEEN'S REGIMENT
The Queen's Regiment is the oldest and most senior English Infantry Regiment of the Line. It traces its history back through the 3rd Foot to 1572 and its seniority in the British Army dates from the raising of the 2nd Foot in 1661. The regiment took this form and title in 1966 and stems from six distinguished former County Regiments of the South East: The Queen's Royal Regiment, The Buffs, The East Surrey Regiment, The Royal Sussex Regiment, The Queen's Own Royal West Kent Regiment and the Middlesex Regiment.
The Drum Major's ceremonial uniform is based on the Full Dress worn prior to 1914. His infantry blue cloth helmet has a Regimental Helmet Plate. His collar badge and buttons are those of The Queen's Regiment. His sash is of the emblazoned standard Queen's Regiment pattern bearing his battalion's title. His staff is embellished with The Queen's Regiment Battle Honours which include the oldest in the British Army "Tangier 1662-1680".
In 1991 the Flying Dragons were the only regimental display parachute team in the Infantry of the Line. The figure shown wears a blue beret and cap badge. He is holding his parachute helmet which has a video camera fixed to its top so that he can film team members as they fall. An altimeter is attached to his chest. His Ram Air Display Parachute is in the regiment's colours of blue, silver and gold.
In the background is Dover Castle where the Regimental Museum 'All the Queen's Men' is house in the Inner Bailey. This is approached through the gateway above which the Regimental Flag is shown flying.
Published 1991

Copyright © 1992 Published by Geoff White Ltd.