BRITISH INFANTRY REGIMENTS (1)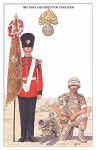 No. 29. The Royal Regiment of Fusiliers
Drummer: Full Dress with Wilhelmstahl Colour
Fusilier: Gulf Combat Dress with Milan Anti-tank Weapon
Background: Desert Scene with Warrior APC
From a watercolour painting by William R. Younghusband

Postcard No. 29 THE ROYAL REGIMENT OF FUSILIERS
Although the Royal Regiment of Fusiliers was formed as recently as 1968, its four former regiments came into being three hundred years earlier. The first to be formed were the Royal Northumberland Fusiliers (5th Foot) and the Warwickshire Regiment (6th Foot) in 1674. In 1685 the Royal Fusiliers (7th Foot) were formed in the Tower of London and the close connections between the Regiment and the City of London dates from then. The formation of the Lancashire Fusiliers (20th) in 1688 completed the roll call.
The Drummer, in Full Dress, is shown here with the Wilhelmstahl Colour. On 24th June 1762, in the woods at Wilhelmstahl, Germany, 3,000 officers and men of the French Army, complete with a Standard, six Colours, and two cannon, surrendered to the 5th Foot. To commemorate this victory, a standard was carried as a third or Drummer's Colour. Royal sanction 'to bear a commemorative banner' only on 'St. George's Day' was finally granted by HM King George V in 1933. This unique tradition has been inherited by The Royal Regiment of Fusiliers.
The 3rd Battalion served with the 4th Armoured Brigade in the Gulf War. The Fusilier wears desert camouflage combat clothing with the black Desert Rat sign of the 4th Brigade on his right sleeve. Beside him is a Milan anti-tank missile launcher. Milan is a one-man weapon, but in action it is served by a two or three man team with the 'extras' carrying additional missiles. These are wire guided to the target.
The background shows a typical desert scene with infantry deploying from a Warrior Armoured Personnel Carrier.
Published 1991

Copyright © 1991 Published by Geoff White Ltd.