BRITISH INFANTRY REGIMENTS (1)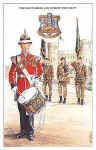 No. 32. The Devonshire and Dorset Regiment
Drummer: Full Dress
Colour Party: Combat Dress
Background: the Keep, Dorchester
From a watercolour painting by Christopher A. Collins.

Postcard No. 32 THE DEVONSHIRE AND DORSET REGIMENT
The Devonshire and Dorset Regiment was formed by the amalgamation in 1958 of two distinguished and ancient companions. 'The Bloody Eleventh', the Devonshire Regiment. was raised in 1685 as the Duke of Beauforts. The nickname originated at Salamanca in 1812. The Dorsets were a result of the amalgamation of the old 39th and 54th, raised in 1707 and 1756 respectively. The 39th gained outstanding fame at Plassey when they successfully attacked a force of over 50,000 in India, gaining their motto, 'Primus in Indis'. The 54th are renowned for remaining loyal during a mutiny at Gibraltar in 1801. This resulted in the adoption of the Regimental Motto 'Semper Fidelis'.
The striking white helmet with green pugree worn by the Drummer commemorates the deployment of the Regiment on the ships of the Royal Navy as Marines. On his sleeves he wears the Regimental Croix de Guerre ribbon awarded by the French to the Devonshire Regiment for gallant action in 1918. The drum is emblazoned with 21 Battle Honours on a green ground, the Regimental Badge and Royal Crest. It has two drag ropes.
The Colour Party depicted here are in Combat Dress for a drill dress rehearsal. Since 1743 Regiments have carried two Colours, the Sovereign's Colours and the Regimental Colour. The Queen's Colour, always carried on the right as the senior Colour, has 34 battle honours from the two world wars. Similarly, the regimental Colour's carries 21 battle honours from campaigns preceding 1914.
The Keep at Dorchester houses the Dorset Military Museum which is the home of both the old Dorset Regiment and the Devonshire and Dorset Regiment Museum.
Published 1992

Copyright © 1992 Published by Geoff White Ltd.