BRITISH INFANTRY REGIMENTS (1)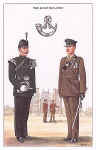 No. 33. The Light Infantry
Bugler: No. 1 Dress
Major: No. 2 Dress (Ceremonial)
Background: Durham Cathedral
From a watercolour painting by William R. Younghusband.

Postcard No. 33 THE LIGHT INFANTRY
On 10th July 1968 the four County Light Infantry regiments of Somerset and Cornwall, Yorkshire, Shropshire and Durham were amalgamated to form The Light Infantry. The Regiment's origins stretch back to the North American Wars of the 1750's when some regiments were trained as light infantry to scout and skirmish. In 1803 Major General Sir John Moore formed the Light Brigade at Shorncliffe. He exchanged the soldiers bright uniforms for camouflaged ones and encouraged self confidence and initiative. The drum was replaced by a bugle as a means of conveying orders on the battle field and is still used today to sound daily routine calls. To show their agility and speed Light Infantry Battalions march at 140 paces to the minute and on ceremonial occasions 'double march'.
The bugler in No. 1 Dress wears a sealskin cap. The plume is 7 inches in length and is of double brush green horsehair. The jacket is Light Infantry green as is the stripe on the side of the No. 1 Dress trousers. The bugle lines, dress cords and wings are of green and silver.
The Light Infantry green forage cap of the Major in his Ceremonial Service Dress has a black oak leaf band and black leather chin strap. The cap badge has a red backing. As a field officer the peak of his cap his adorned with silver braid. The material of the uniform is drab barathea. His sword is being worn at the "short trail" position.
Durham Cathedral is in the background with two Warrant Officers standing in front of it. Traditionally the red sash is worn over the left shoulder.
Published 1991

Copyright © 1991 Published by Geoff White Ltd.