BRITISH INFANTRY REGIMENTS (1)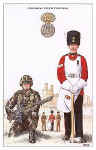 No. 38. The Royal Welch Fusiliers
Fusilier: Combat Dress with Light Support Weapon.
Pioneer Corporal: Full Dress
Background: Caernarfon Castle.
From a watercolour painting by William R. Younghusband.

Postcard No. 38 THE ROYAL WELCH FUSILIERS
The Royal Welch Fusiliers is the oldest Infantry Regiment of Wales and is also one of the very few remaining British Infantry Regiments with a continuous lineage unbroken by amalgamation since its formation in March 1698 by Lord Herbert of Chirbury. The Regiment became known in 1712 as the Royal Regiment of Welch Fusiliers. During the famous retreat to Corunna the Regiment was the last to leave the town and locked the gates behind them. The keys can now been seen in the Museum at Caernarfon Castle.
The Fusilier is in combat dress and wearing fighting order equipment. He is carrying a Light Support Weapon (LSW). The LSW is the latest machine gun of the British Army. It is issued on a scale of two per infantry section and is fitted with an optical sight. It used the same 5.56mm calibre round as the SA80 and is magazine fed.
The Regimental Pioneer Corporal wears his Ceremonial Order with scarlet, white apron and ceremonial axe. On parade the pioneers carry axes, shovels and picks. They march directly behind the Goat Major, and in front of the band.
In the middle ground is shown the Regimental Goat with Goat Major. The Goat is a gift from Her Majesty The Queen's Royal Herd. Two Fusilier's in No. 2 Dress are also shown. On one can be seen the distinctive Black Flash hanging from the collar on the back of his jacket. Both are wearing the white hackle in their berets. Caernarfon Castle which houses the Regimental Museum in the Queen's Tower is in the background.
Published 1992

Copyright © 1991 Published by Geoff White Ltd.