BRITISH INFANTRY REGIMENTS (1)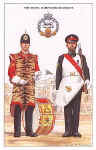 No. 46. The Royal Hampshire Regiment
Bass Drummer: Full Dress
Assault Pioneer Platoon Sergeant: Ceremonial Dress
Background: Serle's House, Winchester
From a watercolour painting by Douglas N. Anderson.

Postcard No. 46 THE ROYAL HAMPSHIRE REGIMENT (37TH/67TH)
The Regiment was raised in 1702 as 'Meredith's Regiment' and in 1751 redesignated the 37th regiment of Foot. In 1758 the 2nd Battalion, 20th Regiment became the 67th Regiment. In 1881 the Regiments were united as the Hampshire Regiment. In 1946, in recognition of outstanding service King George VI approved that the Regiment should enjoy the distinction of Royal.
The Lance Corporal is from the battalion's Corp's of Drums, as is shown by the drum above the lance corporal chevron, and the crown lace worn on the collar and wings of the scarlet tunic. The single bass drum is the master drum and from its beat, as directed by the baton of the Bandmaster, or the staff of the Drum Major, the music and drill movements or marching tempo are controlled.
On ceremonial parades the Assault Pioneer platoon's link with the past is shown by its representative wearing a white apron and carrying a ceremonial axe. The Sergeant is the only member of the battalion who is authorised (and expected!) to wear a beard. In 1768 the principal roles of the 'Pioneers' were the clearing and mending of roads. Tools used were axes, hatchets and spades. A brown leather apron was worn and a flintlock carried. Today's assault pioneers are highly trained specialists whose skills cover laying and lifting mines, laying and neutralising booby traps, demolition, construction of field defences, creation of obstacles, watermanship and water supply.
The Regimental Headquarters in Winchester is located in Serle's House, which is a Georgian building C1732. The Regimental Museum is to be found on the ground floor.
Published 1991

Copyright © 1991 Published by Geoff White Ltd.