THE KING'S DIVISION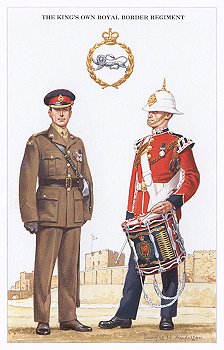 No. 28. The King's Own Royal Border Regiment
Major: No. 2 Dress (Ceremonial).
Drummer: Full Dress.
Background: The Castle, Carlisle.
From a watercolour painting by Douglas N. Anderson.

Postcard No. 28 THE KING'S OWN BORDER REGIMENT
The regiment was formed in 1959 by the amalgamation of the King's Own Royal Regiment (Lancaster) and The Border Regiment. The King's Own was one of the oldest infantry regiments having been raised in 1680. The Border Regiment was formed in 1881 by the amalgamation of the 34th (Cumberland) Foot and the 55th (Westmoreland) Foot: these having been raised in 1702 and 1755 respectively.
The major illustrated is wearing Ceremonial No. 2 Dress. He wears a red rose on his cap in celebration of St. George's Day. On his right shoulder is a khaki patch with gold embroidered glider. The wearing of this badge is a privilege granted by King George VI to the 1st Battalion in commemoration for their part in the airborne actions in Sicily (1943) and Arnhem (1944). His sword is the infantry officers pattern. The leather sword knot hangs loose in cavalry fashion recalling the days when field officers were mounted and wore it looped over the wrist in action.
The Drummer in Full Dress wears the colonial pattern helmet approved for musicians and drummers in 1978. It had been readopted some years earlier during the Regiment's tours in Bahrain and Cyprus in 1967069. His tunic has a gold drum badge on the right sleeve. Red, yellow and blue 'Cords, Royal' with tassels are worn. The drum has wooden counter hoops painted in Royal livery with rod and claw-bracket tensioners on the batter and snare heads. The shell is emblazoned with Regimental Devices, titles and battle honours.
In the background is the Castle, Carlisle, Cumbria which houses the Regimental Headquarters, the Museum and other regimental offices.
Published 1988

Copyright © 1988 Published by Geoff White Ltd.